Shepard Fairey's EARTH CRISIS mural is on the side of the Little Cupcake Bakeshop on St Marks Avenue and Vanderbilt Avenue in Prospect Heights, Brooklyn. It appeared sometime in late September, 2015. The piece is easily noticeable for passers by, standing out against red brick. It uses thin lines of white paint, depicting a large teardrop coming out of an eye. Inside the teardrop is a globe turned to North and South America. Near the top of the piece, on either side of the eye, are the words "EARTH CRISIS." It is recognizably in Fairey's geometric, minimalist style.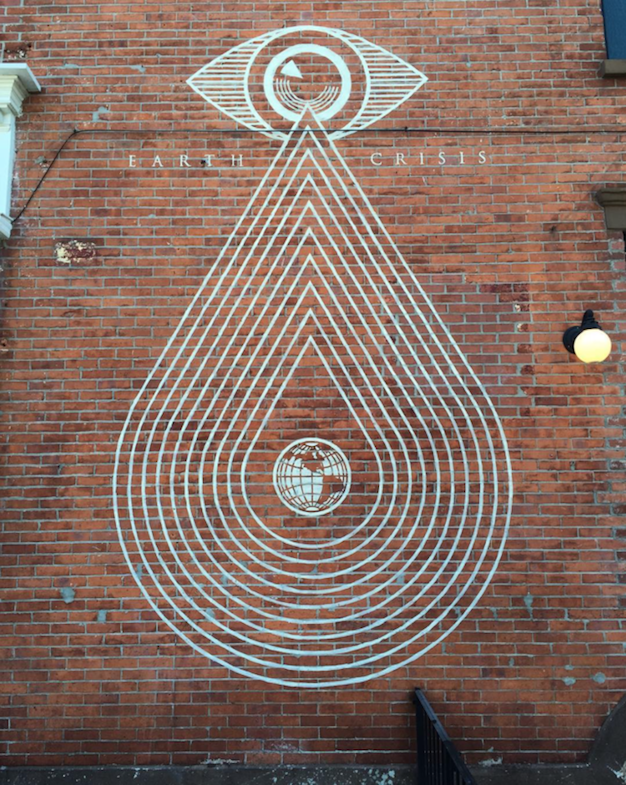 Unlike much street art, it was made with permission from the property owners. The manager of Little Cupcake Bakeshop had an existing relationship with Shepard Fairey, and communicated with him about the piece. It was meant to bring attention to the the Bakeshop's focus on eco-consciousness, and to bring an environmental message to the larger community of the neighborhood. A second piece, this time depicting a lotus design and Fairey's famous OBEY label, is on the outside of Little Cupcake Bakeshop's Manhattan location on Prince Street and Mott Street. It has become a draw for patrons of the Bakeshop to come see the mural.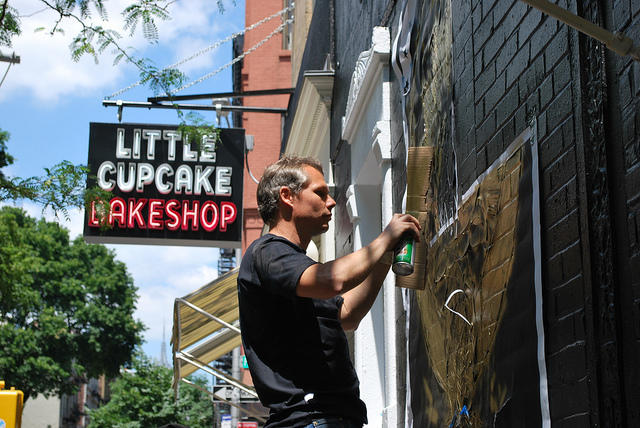 The EARTH CRISIS collection extends far beyond just these two pieces—Fairey has made prints, paintings, sculptures and an exhibition under the same name. His most famous iteration was an installation of a large, three-dimensional globe suspended under the Eiffel Tower. It's installation corresponded with COP21 in paris, arguably the most significant climate conference held by the United Nations. He was the first artist allowed to attach a three-dimensional installation to the landmark, and the process of his project went to an environmental advocacy group, 350.org.
While the mural on St. Marks is much more low-profile, the intention behind it is the same. Shepard Fairey is famously involved in bringing political issues into the public, and street art is the perfect medium. By making art that is engaging and has a political message behind it—in this case that the environment is in crisis—and putting it into the public space, he stimulates discourse and and interest in the message.