Have you ever imagined yourself fantasizing about how a museum is like at night?
Maybe you thought of the movie the Night at the Museum starring Ben Stiller. Did you see dinosaurs roaming around, monkeys stealing keys, mini civilization going to war against each other, and mummies coming alive?
Well, that's what many Macaulay students imagined when they heard that they would be visiting the Brooklyn Museum for a night at the museum workshop. None of the exhibits came to life, but it was very exciting to walking through the different exhibits and looking at excellent pieces of art – ESPECIALLY since there was no one else in the museum besides the students and administrators.
It was a special encounter with art and conversation for the freshmen class of 2017. All students had access to observe, take pictures, and even record conversations with their groups. Students were instructed to discuss what they thought and noticed while making connections to the work of art.
Not only is there so much to see inside, but also the building itself is a masterpiece of Beaux Art. This type of art features architecture that expresses the neoclassical architectural style in France.  The museum, founded in 1895, was designed by McKim, Mead, and White.
One of the best things about this museum is that there is A LOT of space. It did not seem at all like there were 500 students in the building talking all at once. Not only does the museum itself have a lot of space, but so does each painting. The curating of the museum is really interesting. Each work of art seemed to have its own space so it didn't look like they were assembling on top of one another. It was easy to focus on one piece without getting distracted by another one.
There is so much to view in this museum. There is American art, European art, an Egyptian exhibit, African art, an Asian section, as well as modern art.The Egyptian wing is astonishing. There was even a mummy chamber!
One of the paintings that was very interesting and even a bit challenging to decipher was Clouds Over the Black Sea – Crimea painted by Boris Anisfeld in 1906. He created the painting in memory of his wife at the age of 26. This is interesting because he must have lost his wife at a very young age. When reading that, the first thought was "why this painting?" The painting is from a bird's eye view. There are many clouds in the sky and looking down one can see a vast, calm sea with one ship sailing and a nearby mountain. From the conversation with the group, it can be inferred that his wife is looking down at him while he is traveling, since the conventional way of traveling was by sea at the time.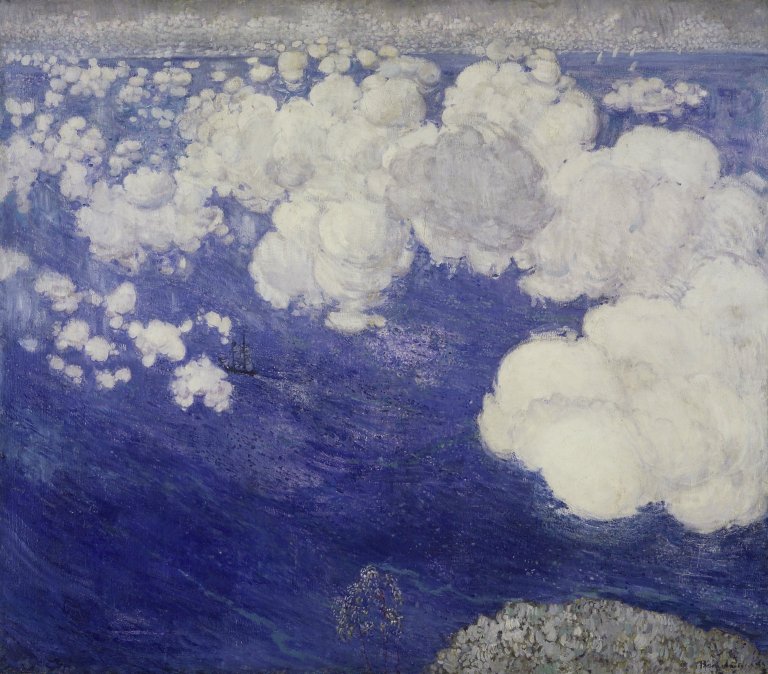 It was an amazing experience unlike any other before. We always go to museums but never have we been able to have conversations about art in this manner. Carol Duncan has stated in her essay Art Museums as Ritual that such museums replace religious belief with person interpretation and intellect. During that night, we were able to exactly that. When looking at a painting or a sculpture, not only were we able to thoroughly examine it for however long we wanted, but we were also able to discuss the artwork in great detail while connecting it to our personal experiences.
Duncan has also said that going to a museum is much like a spiritual experience that one experiences at a place of worship. When visiting the museum for this workshop, it did feel "other worldly". Walking through each exhibit, the curating all came together like magic. The closeness of the artwork, the size of the exhibit, and the brightness of the room were all integrated together to give that divine sentiment.
This was a unique opportunity unlike any other to have the Brooklyn Museum all to ourselves. Although the Brooklyn Museum is not as widely known as others, it is very interesting. It is definitely worth the time to visit.