Profile
Neighborhood Profile | Houses of Worship | Sources
History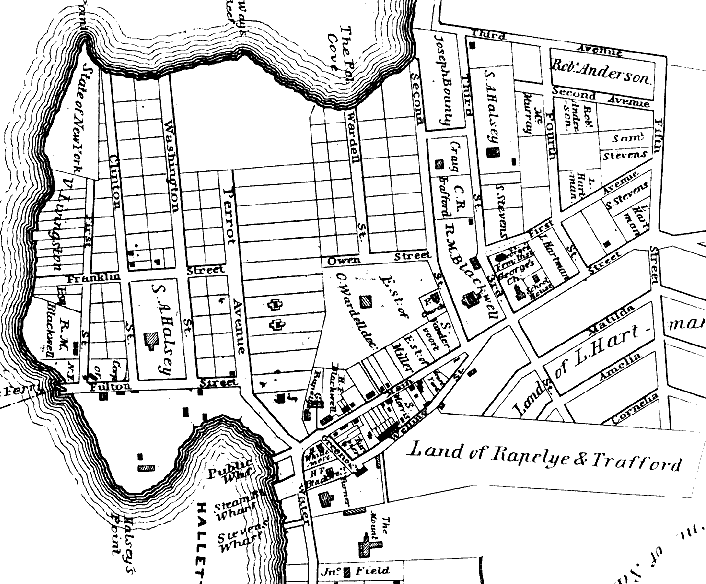 One of the oldest parts of Astoria is the Hallet's Cove. It was named after a family who first settled in this northern waterfront section in the 1600s. Before the Civil War, a wealthy merchant Stephen A. Hasley purchased real estate with associates and began laying out lots. In 1839, he had the area chartered by the state as the incorporated village of Astoria, after John Jacob Astor, Hasley's acquaintance, who made a minor financial contribution to a local girls' seminary. Astoria remained a distinctive village until 1898, when it officially became part of New York City.
Farther north is an area referred to as Ditmars, the core of Greek Astoria. New York City has the largest Greek population outside of Athens. And those who don't live in central Asotria flock to Ditmars. Ditmars was named after Abram Ditmars, who became the first mayor of Long Island City in 1870, and it is home to 66-acre Astoria Park. Founded in 1913 in a valiant effort to save some of the East River shoreline for the public, Astoria Park offers a view of teh river and the Triboro Bridge.
And a smaller area known as Steinway was named after the German Steinway family, famous for it piano manufacturing company. They developed this part of Astoria beginning in 1877. They built a company town consisting of a factory complex, homes for employees, a post office, a library and other basic businesses.
Around the 1920's to the 1940's, Astoria became home to a large number of Italian, Greek, and Irish immigrants. After a change in U.S. Immigration policies in the late 1960's, Astoria received its biggest immigration boom in modern times, mostly from Greece. Today, Astoria boasts the largest number of Greek nationals and emigrants outside of Greece. During the 1980's to present, immigrants from Bangladesh, India, Dominican Republic, Ecuador, and Brazil have increasingly settled in Astoria. More museums and artists also moved into this neighborhood in the 1980's.
Today, Astoria is a multicultural haven for people from all corners of the earth. The neighborhood's architecture reflects its rich past: a hodgepodge of prewar apartment buildings, renovated row houses, brick tenements, and two family houses combine the old with the new. Astoria enjoys a variety of robust small businesses, ethnic dining, bargain shopping, and trendy nightlife.
Demographics
| | |
| --- | --- |
| White | 74.70% |
| Black | 1.10% |
| Native American | 0.10% |
| Asian | 4.80% |
| Hawaiin/Islander | 0% |
| Other | 0.90% |
| Mixed | 4.70% |
| Hispanic | 13.80% |

Ethnic Breakdown
Social Geography
Astoria has traditionally been considered one of the most heavily "Greek" areas outside of Greece and Cyprus. But the tides are now turning. This culturally rich and diverse neighborhood is now known as the "new bohemia," attracting residents from India, Pakistan, Thailand, China, and other parts of America.
Little Egypt
The aroma of gyros, hookah, and pastries (baklava) fills the air in Little Egypt. Women wearing hijabs walk with their children speaking Arabic. Men sit outside the hookah bars contemplating about life. Children: Afghani, Syrian, Egyptian, play soccer together, their laughter ringing the streets. North of Steinway Street is the famous Al-Iman Mosque. The golden exterior and the intricate Arabic writing on the doors beckons the people to explore the history of this beautiful mosque.
The number of Arab speakers in the neighborhood the city designates as Queens Community Board 1(the city is broken into fifty-nine community boards that offer advice on land-use and budget issues) rose from 2,265 in 1990 to 4,097 in 2000, an 80 percent increase, and will be larger in the next census. For the Middle Easterners, the attraction to Astoria is the Mediterranean atmosphere: foods that overlap with Greek delicacies such as kebab, lentils, baklava, and okra. "We feel more comfortable with Greeks," George Oumous, a forty-five-year old Moroccan computer programmer, said of his fellow Arabs. "We've been near each other for centuries. You listen to Greek music, you think you could be listening to Egyptian music.
Little Greece
Walking away from the bustling streets and hyped people, we entered Little Greece, a rather calm area.  Originally, Astoria was mostly populated with Greeks, but decreased immigration and lower birth rates  dropped the population from around 22,579 in 1980 to 18127 by 1990. Astoria has many Greek restaurants, bakeries, tavernas and cafes, as well as several Greek Orthodox churches. One of the many churches church we visited was the St. Irene Of Chrysovalantou Greek Orthodox Church located on 36th Street and Ditmars Blvd.
It is very interesting to see that the Greeks, who just a decade ago made up half of Astoria's population, are leaving to other places. Many immigrants made enough money in coffee shops, cafes, and construction to afford more spacious homes in Bayside and Whitestone in Queens or Roslyn on Long Island.
A mix of cultures
Fadl Shaker, a Palestinian born in Lebanon, is a famous singer known widely in the Middle East. His song Ya Ghayeb, which literally translates into "Oh Absent (girl)," was also sung by Sotis Volanis, a Greek singer. In this song, a guy asks his love why she does not ask about the one who loves her and he tells her that she is his destiny. This song has many covers including Serbian, Hebrew, Turkish, and of course Arabic and Greek. The video below is a remix including the Arabic and Greek verisions of the song.
Transportation:
The N, W, and Q trains are the trains that cover most of astoria. The G, R, V, E, F and 7 trains are also helpful.
Heart of Astoria: Landmarks and Attractions
Astoria Park
23rd Rd to Hoyt Ave S (19th Street and Shore Boulevard)
Astoria, NY 11106

The highlight of Astoria is the Astoria Park which contains the largest of New York City's public pools which was also t1he former site of the 1936 and 1964 U.S. Olympic trials. Enjoy the beautiful view of the Hell Gate Bridge and the Megler Bridge. Many residents come to the park to enjoy a day out with their families, play soccer with their children, or just to take s stroll.
Museum of the Moving Image
37th Street & 35th Ave
New York, NY
(718) 784-0077

The Museum of the Moving Image represents the art of movie-making. It celebrates the history, technology, and art of movies. With a balance of hands-on activities and information that will interest people of all ages, this museum is a winner. Walking through it feels like one is walking into a movie itself!
Firdos Grill
25-21 Steinway St
Astoria, NY 11103

Astoria is home to many hookah bars/restaurants . One of the most popular hookah restaurants is Firdos. The prices are more than reasonable as opposed to the $15 and up prices of Manhattan. The vibe is attracting, great for a socializing with friends as the music isn't too loud. The decor is simple but congruent to the vibe. Walking into Steinway one is overwhelmed with the fragrances of the various hookah bars. The nightlife is very alive. Happy hour in Astoria is post ten o'clock.





View Astoria in a larger map