The Hindu Temple Society of North America
Neighborhood Profile | Houses of Worship | Sources
____________________________________________________________________________________________
The Hindu Temple Society of North America ( Sri Maha Vallabha Ganapati Devasthanam )

Where it is Located: 45-57 Bowne Street, Flushing, NY 11355
Telephone: (718) 460-8484
There is a growing number of followers of Hinduism coming from India and other places, settling in New York City, mainly Flushing, and other parts of the City and in the outskirts of this city.
As the first Hindu Temple in North America composed of largely imported materials, and constructed by artisans from India, Sri Maha Vallabha Ganapati Devasthãnam (or the Ganesha Temple) is one of the most impressive and historically important Hindu temples in the West. Flushing, Queens was chosen as the location for the Ganesha temple based on three criteria: it was the gateway of the U.S.- all Indian immigrants came here and there was a large concentration of Hindus in the tri-state area of New York, New Jersey, and Connecticut; it was within walking distance for many, or one bus or subway fare; and the possibility existed to purchase a suitable site. Its strength and influence outside of New York is proven by the fact that the temple has served as a model for many other Hindu communities. It grows in size of its structure as well as in population of its followers and is one of the dominating places that attract new immigrant followers of Hinduism living in the neighborhood, city, state, region, country, and like-wise over the world.
Ganesh is one of the main Gods in Hinduism and the main idol at this temple. A pundit is usually seen bathing, a ritual in Hinduism, the deity of Ganesh in the mornings.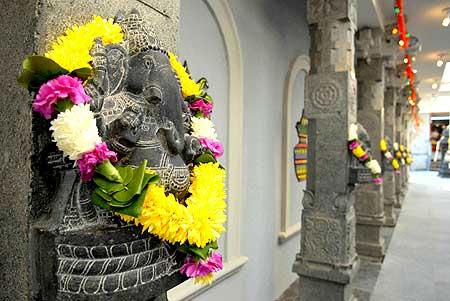 The above picture shows a carved out deity of Ganesh in the entrance to the temple.
<<- Back to Muslim Center of New York | Return to Houses of Worship | Forward to True Buddha Diamond Temple of New York ->>
____________________________________________________________________________________________