Renaissance Art finds itself emerging between the 14th and 16th centuries A.D. Within this period the Renaissance movement itself, along with all that lead up to the actuality of the movement influences all of its art. Painters and sculptors are influenced by humanism and secularism respectively. Unlike the Middle Ages (period before it) human thought was focused away from God, heavenly saints, and it began to examine the natural aspect of living on Earth. As Greek and Roman scientific methods began to be revived, artists began to be perceived as knowledgeable, respected figures in society and no longer artisans or craftsmen. A profession in the visual arts called for knowledge of mathematical perspective, optics, geometry, and anatomy. It was this exploration of fields in science, biology, architecture, mathematics, and engineering lead art of the Renaissance to be distinct from its predecessors. By solely using "secular humanism" as a means to identify art of this period we see changes in the depiction of saints and/or individuals of religious importance where halos become to disappear and the size of such figures actually are more scaled to look like ordinary people.
During the Renaissance we also see paintings transform in their presentation. Oil paints were used for the time, and the mixing of egg yolks for pigmentsis replaced. With oil, paint became translucent and more vivid colors were used, as well as more depth in paintings. The works of art that were a result of the Renaissance were made with attention to detail, and have a natural essence to them-which is exactly what artists intended. Evidence of this lays in well-known examples from this period of time such as the "Last Supper" and the "Mona Lisa" by Leonardo Da Vinci, as well as Michelangelo's sculptures and his artwork on the ceiling of the Sistine Chapel.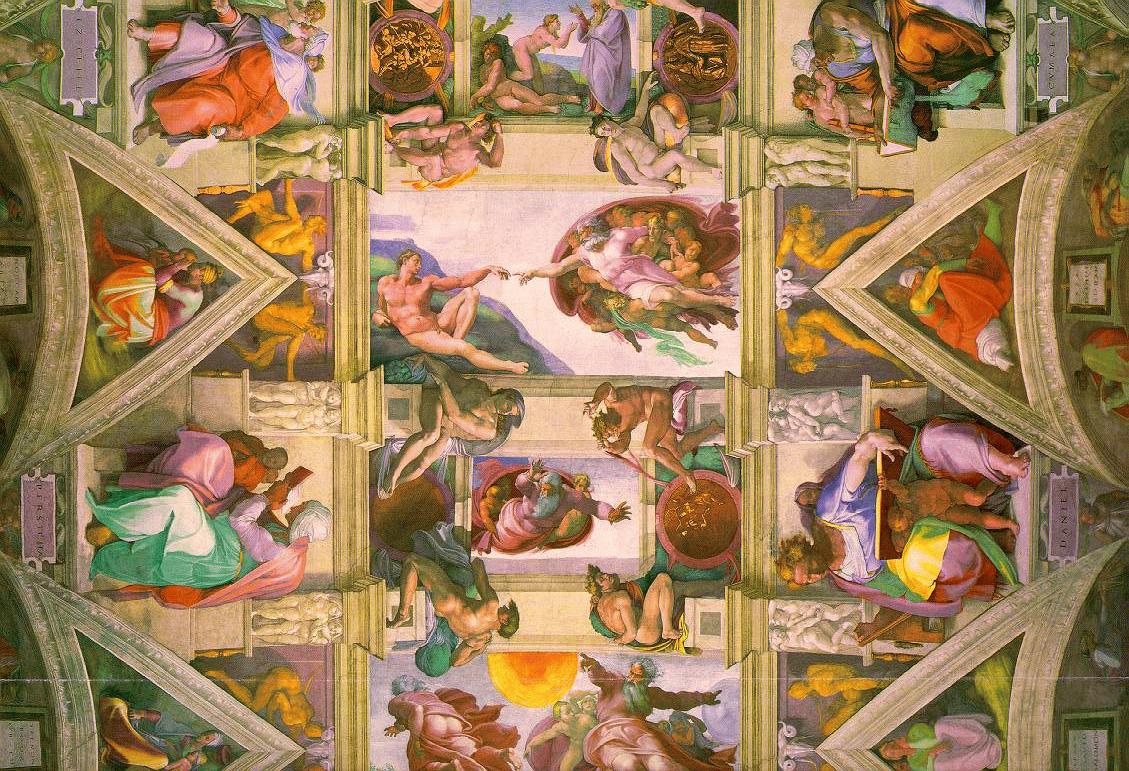 Bibliography:
"Renaissance Art." History Department, Hanover College. Hanover.edu. Web. 24 Sept. 2009. <http://history.hanover.edu/courses/art/111ren.html>.
"Renaissance Art Gallery." Renaissance Art. Www.csun.edu. Web. Sept. 2009. <http://www.csun.edu/~aee52628/files/pdf/Renaissance/Ren.Art.Gallery.pdf>.
Sistine Chapel . Hanover.edu. Web. Sept. 2009. <http://history.hanover.edu/courses/art/micsis2.jpg>.
Witcombe, Prof. Christopher. "What is Art?…. What is an Artist." Arthistory.sbc.edu. Department of Art History: SBC Virginia, Fall 1997. Web. Sept. 2009. <http://www.arthistory.sbc.edu/artartists/renaissance.html>.