"But not a drop to drink."
As the world's climate changes and the water cycle quickens, environmentalists around the globe agree that the ways the world controls, collects, contains, and maintains water will change drastically.  As a coastal city, New York City in particular is expected to face rising sea levels, intensified storms, and reduced fresh water quality from saline seepage.  How can we as a city prepare for these changes? Which current NYC water issues will intensify and what can we do to mitigate them? What changes does Mayor Bloomberg's citywide sustainability initiative "PlaNYC" anticipate?  Are these plans affordable and cost-effective? And what part can individual New Yorkers play in this multi-faceted city water intervention?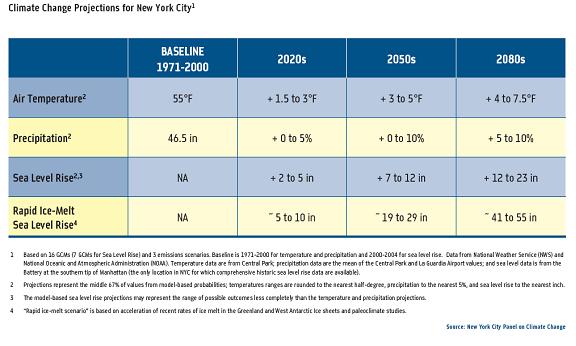 Our team attempts to address these questions by researching their possible solutions. We examine how we can adapt to strengthened storm patterns through green infrastructure, and how we can best mitigate the combined sewage overflow (CSO) that results from excess storm water in our sewers. To address rising sea levels, we look to the Dutch Netherlands to see how they have reworked their water plants to cope with high sea levels. We investigate the feasibility of Desalination, the process of removing salt from contaminated fresh water. Additionally we study the possibility and viability of daylighting our buried streams. And finally, we survey and critique PlaNYC's strategies for adapting to, and mitigating the effects of climate change on water.  [View Table of Contents below]
Group Members:
Aidah Gross
Esther (Dassa) Gutwirth
Sun Mei Liu
Learn more about us here.
References
All references last accessed April 10, 2010
Image 1: http://www.moma.org/explore/inside_out/inside_out/wp-content/uploads/2010/02/Chart.jpg
Image 2: http://www.water.ca.gov/climatechange/images/climate-change2.jpg
_______________________________________________________________________________
Table of Contents:
o CSO in NYC
• Combined Sewer System
• Eliminating CSO
o Drinking Water in NYC
• Desalination
• Buried Streams
o Holland