Save the Date
Remember to save the fifth day of the fifth month of the lunar calendar, since this is the day to celebrate the Dragon Boat Festival. This year, 2011, the festival falls on June 6, which is a Monday.
Traditional
If you want to be really traditional, you can hang moxa herbs and a picture of Zhong Kui (a guardian who could fight off evil spirits) on your front door.
Zongzi
Make your own zongzi or buy one at a local Chinese Supermarket because it is the most common food associated with Duanwu Jie. Zongzi can be described as rice dumplings wrapped in bamboo leaves. In the video below, you will witness how a zongzi is made and the differences in tastes people in different parts of China have for what to put as the filling. From the video you will see that people from Southern China would usually put dried mushrooms, Chinese sausage, and salty egg yolk as the stuffing's. While people from Northern China would prefer to add sweet stuffing's such as red bean or green bean paste.
http://youtu.be/2GQpyw41M-k
Red Bean Zongzi
Salty Stuffings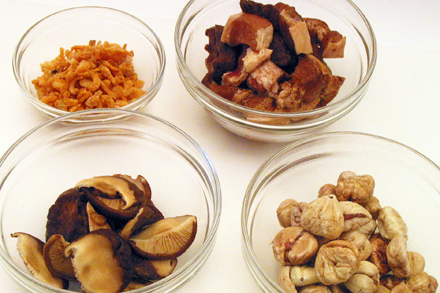 Wine
Drink Xiong Huang Wine (only if you are of age); legend has it that it can fend off diseases. The wine is made from Xiong Huang and rice wine.
Fragrant silk pouches
Children can carry fragrant silk pouches around their waist to ward off evil.
Dragon Boat Race
The most popular event of the festival is the Dragon Boat Race. For some people, dragon boating is a way of life. The amount of training that goes into preparing for such a competitive race is astonishing. Below is a description of the training a dragon boat racer has to go through:
Train like 4 times a week on the water (9am on weekends or 7pm on Tuesday and Thursday) from April till October or November
Go to the gym to build up endurance
Look out with what they eat
Body has to have good rest before the race
"People have been racing dragon boats for over 2,000 years. The sport has 3 basic components: A boat, a steersperson, and a crew. The crew sits side-by-side, and can have up to 22 per boat. Races are held around both the region and world, and at different levels of competition." 1
"NY keeps up the age old tradition of Dragon Boat Racing in colorful, custom made teak boats." 2
"The first row of two are known as pacers — they set the vessel's stroke rate.  The next five rows form the "engine room" — they provide the power. Four more paddlers sit beneath the steerer and help out as they can." 3
"Four days before the festival begins, the dragon boats are taken from their resting places and their heads and tails attached. They are then ritually blessed by a Buddhist monk and later brought to life before the races by having their eyes dotted in red paint." 2
Join the Race
Best way to celebrate all year round, is to become a Dragon Boat crew member. One Dragon Boat association my friends are a part of is the DCH racing.  Take a look at their videos on YouTube and see the energy, strength, and unity being a part of such a community can bring to your life. (Click picture below)